Blackpool is a seaside holiday resort in the northwest of England, about 30 miles north of Liverpool and about 45 miles north west of Manchester.
As such it is one of Britain's best known sea-side resorts, having become immensely popular in Victorian times when the cotton mills of Lancashire would close for a week each summer – these were known as 'Wakes Weeks' – and the mill workers would take the new railways to the coast.  Rather than swamp the resorts, each mill would close for a different week allowing a steady flow of holidaymakers through the summer.
The heart of Blackpool is a stretch of promenade known as the 'Golden Mile'. This stretches from a large funfair known as 'the Pleasure Beach' in the south, past three leisure piers (Blackpool is the only British resort with three) before ending at the northern end at 'Blackpool Tower'.
The promenade is served by electric trams which are brightly and spectacularly illuminated each autumn.
---
Blackpool Tower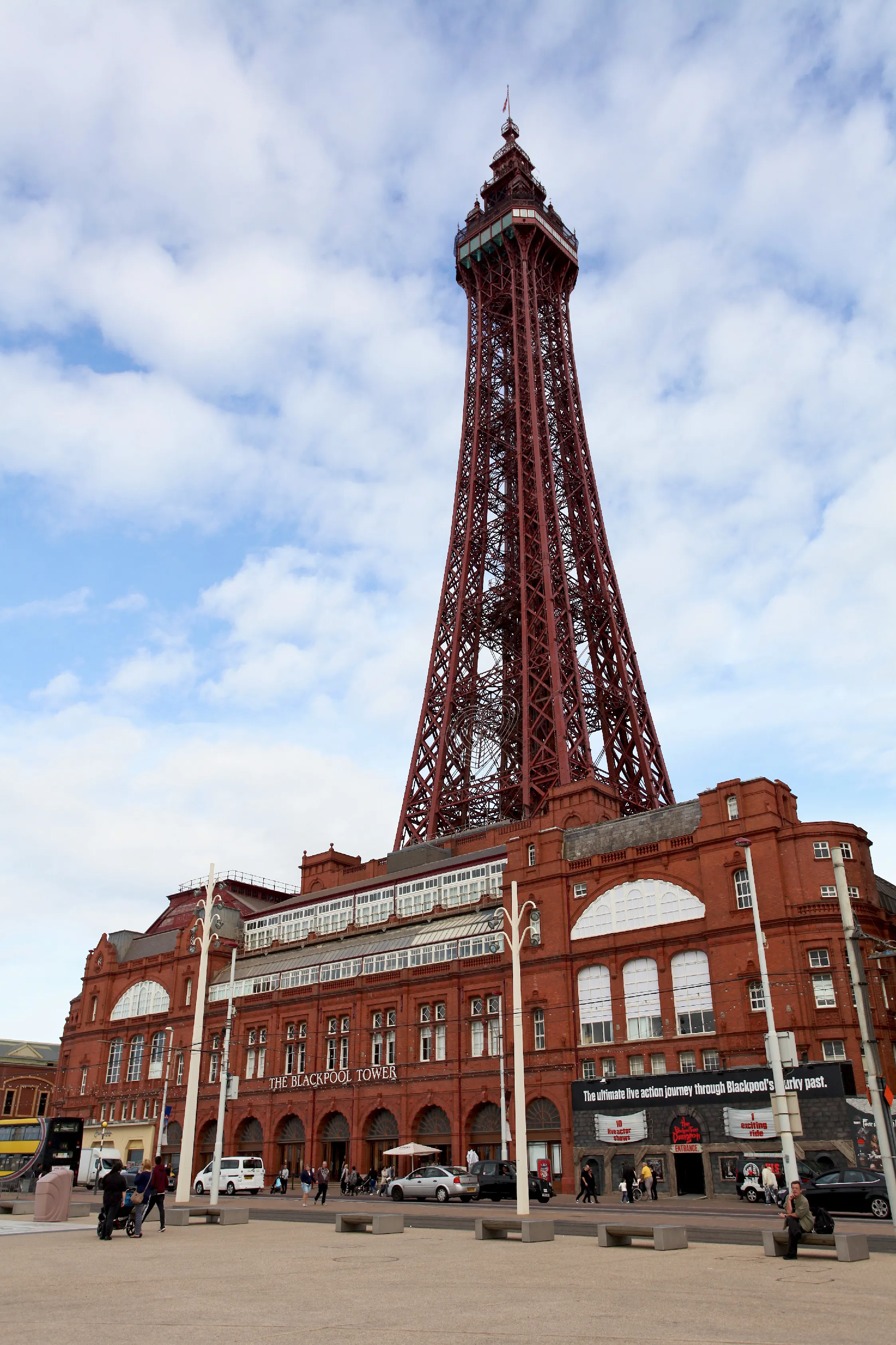 Blackpool Tower was constructed in 1894 after the then Mayor of Blackpool returned, inspired by the Eiffel Tower, from the  Paris Exhibition in 1889 .
Blackpool's tower rises to a height of nearly 520 feet, around two thirds the height of the Eiffel Tower. Nevertheless the flat landscape locally means it can be seen for a radius of about thirty miles.
At the base of the tower is an extensive leisure complex – the 'Winter Gardens' that include an opera house and ballroom – which in turn is home to a massive Wurlitzer organ.
---
Blackpool Lights
Blackpool is famous for its electric illuminations which were introduced in 1879 and actually predate Edison's patent of the light-bulb.
The lights comprise over a million bulbs and extend for some six miles, accompanied by the illuminated trams. They are illuminated each evening for sixty six days from early September until November, thus extending the resort's 'season' beyond that of most seaside resorts.
Like the Christmas lights in London's West End the 'turning on of the lights' has been performed each year since 1934 with considerable fanfare by a topical celebrity.
Blackpool is increasingly turning to renewable energy to power the illuminations and there are plans for the display was declared to be carbon neutral in 2010.